Stan Bielfelt, 1963-2002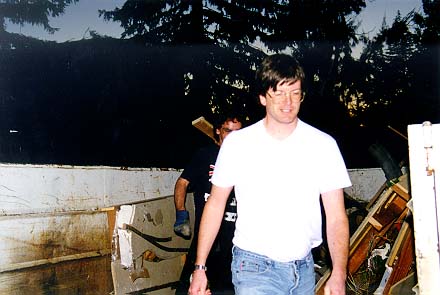 Stan grew up in Sonoma, CA, and joined the PAMRRC in 1985, after earning his BSEE from Cal Tech and moving to Mountain View in order to work for Watkins-Johnson in Palo Alto. Somehow he found the club, and called Jack Wall for details. The next Friday, Jack mentioned that "some guy named Stan" had called and might show up. That week or the next, Stan appeared on his bicycle, which he rode to work whenever the weather was even barely nice, and the PAMRRC was conveniently on his way home.
The Club has seen hundreds of people come and go over the years, and you never can tell who will stay and who won't. Stan stayed, and quickly became a core member of the group. His intelligence, quick wit, and sharp sense of the absurd were a perfect fit.

Stan wasn't really a layout builder. He did some wiring here and there, and always joined in on group projects such as scenery, but he never chose to "own" a section of the layout. And he hated handlayed track - Stan was a snap-track guy and proud of it (actually, he was Lionel guy who dabbled in HO). But when there was a problem - electrical, trackwork, benchwork, whatever - Stan was the first to jump in and fix it, and fix it right. Other nights, when there was nothing interesting to work on, Stan could invariably be found in the office, poring thru piles of old Trains magazines, a practice we termed "Stanning."

Stan was the originator of some of the club's best ideas. He was the first to suggest an upper loop in the Office as a replacement to the dreaded helix. We implemented it, changing the layout from a boring slot-car oval to an interesting loop-to-loop operation. Stan also invented a circuit he called the "Tortoise Logic", a simple means to control Tortoise switch machines with a computer signal. In quick order, every switch machine on the layout was outfitted with Tortoise Logic.

Stan was a keen practical joker. He was the first to hide under the benchwork and quietly soak someone's pants with a spray bottle. He loved to leave the occasional random Quarter on the track during operating sessions, causing everyone to run around frantically while he sat back and enjoyed the scene he created. His trick cars (most notably a pair of boxcars with repelling supermagnets and a boxcar filled with a 3-lb lead weight) were personal and club favorites. Peoples' reactions to (a) cars that would suddenly, inexplicably move apart when you tried to couple them or (b) a locomotive that can't pull one measly boxcar up the hill were priceless. He was patient enough to meter out his pranks, never pulling them so frequently that they were predictable. And always, once others began to imitate his pranks, Stan would move on to something else, preferring to concoct a new ruse than to beat a dead horse.

Stan was perhaps the first member to run a "signature" train, something that all of us would adopt. A fan of the Northwestern Pacific RR, he deleloped a NWP lumber train, which he nicknamed "The Spotted Owl" in sarcastic honor of the environmentalist flap over redwood logging. Most operating nights and shows, when he wasn't running the Spotted Owl, Stan could be found in Granville Yard, shuffling cars back and forth with a small smirk on his face. When we disassembled the layout, he took Granville Yard home, intact.

Though the physical part of the club vanished in the Spring of 1999, the core members have remained in touch, principally via the Internet. In typical Stan fashion, he'd be the one to send an email on some absurd subject - RR-oriented or not - that he found "mildly entertaining." Often it was a very subtle send-up of one of the group, himself included.

In the summer of 2001, Stan mentioned that he had been experiencing occasional stomach pains, and wondered aloud if perhaps he had an ulcer or gallstones. When saw a doctor just before Thanksgiving, the news was horrifying: he had "cancer all thru his gut". He underwent surgery and chemotherapy, and by year's end seemed to be doing well. But the cancer persisted, and a second round of surgery/chemo in early 2002 didn't resolve it. When we visited him at the end of March, he was too weak for additional treatment, it was clear that he had lost the battle.

Stan passed away on Monday, April 15th 2002.

He was a true friend. We miss him.